Beginning, middle, end. Those are familiar elements of a good story.
They provide the structure to help a reader follow along and convey the intended message.
Coding has similar elements that provide structure too. You might have heard of terms such as head, body, tag, and so on. These enable the code to be executed properly and even help the programmer explain the code if needed.
If you're not a novice to coding, don't fret. I'm not either, really. It might be easier to compare the stories and coding with an example. Let's look at a basic HTML tag used to form a link:
Beginning: <a href="URL of the link">
Middle: The text the person sees to click on
End: </a>
So, the whole thing ends up looking like this:
<a href="URL">text</a>
Individually, the parts mean nothing, but together, they complete a sequence of events that (with a click) can transport someone to a new place (just like a story).
Thanks to Pitsco staffer Matt M., a former programmer and now our video manager, for that example and analogy! Makes sense now, right?
Now, what if we actually combine the two? Yes, programming and storytelling together. It CAN happen and in just minutes, actually! Students can develop capacities in both concurrently and have fun while doing so. And, with these three engaging elementary coding solutions, they'll be authoring tales in no time!
KUBO Robotics is a screen-free coding solution that has students piece together icon‐based tiles, called TagTiles®, to create instructions, or code, for their robot to roll over and execute. It's screen free and super approachable. Learners as young as four can code! Though, just because it's designed to be easy doesn't mean it can't create some serious code including functions, loops, and subroutines while also growing with students' capabilities. There are advanced sets that extend learning through fifth grade with Coding+ and Coding++.
So, how can you tell a story with KUBO?
KUBO can become the main character for so many adventures. For example:
All of these ideas can be accessed for free under the 'More Great Ideas' section on the Kubo.education site.
Students can come up with their own topics too, such as a Valentine's Day robot dating show that this special education class dreamed up.
Beyond the fiction, students could also use KUBO to tell their friends about real-life events or retell past experiences. Or, even learn how to complete a task through a story-based depiction.
When we were launching Code Cube™ and completing a company-wide training, Pitsco User Acceptance Tester Larry F. told us the fateful tale of Titanic WITH A CODE CUBE!
We all knew the plot, the characters, and the ending and it was still engaging. Yes, with 64 pixels, he told a real-life story, even in an animated way.
Then, we were challenged to create our own stories. My partner and I told Pitsco's story including creating our own Harvey Dean in pixels. Follow is a screenshot of our coding workspace from Pitsco.com/CodeCubeApp.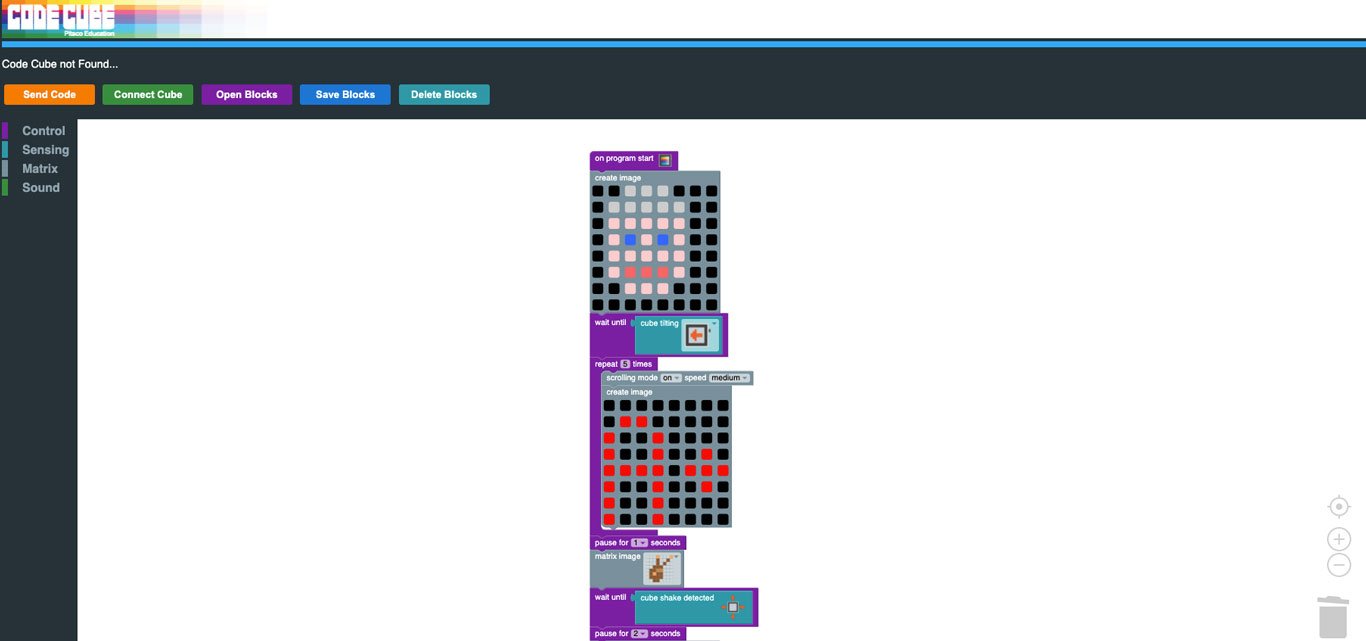 The premise was, "This is Harvey, who, as a student, needed to learn differently and with his hands. He became a technical education teacher who had difficulty getting the supplies he needed and wanted to provide great experiences for his students. So, he and two fellow educators set out to give better options and experiences to teachers. Because of Harvey and his commitment to giving the best to teachers and students, we send innovative products that provide engaging experiences across the world." (Delivering items in a quality manner and supporting with superior customer service are hallmarks here and paramount in what we do.)
It took just a bit of time, and we were all sharing our stories. We had groups create a dunking basketball, superhero cats, growing flowers, and more. Everyone had a different take and different way of animating and bringing their stories to life.
That is the beauty of Code Cube. It empowers students to be content creators through code. It's not about the consumption of information but about generating their own understanding and then wearing it, sharing it, and revising it. Code Cube crosses curriculum boundaries. It's programming, art, SEL, communication, and more. Both coding and art encourage students to express themselves creatively and also provide a safe medium to take risks and occasionally fail.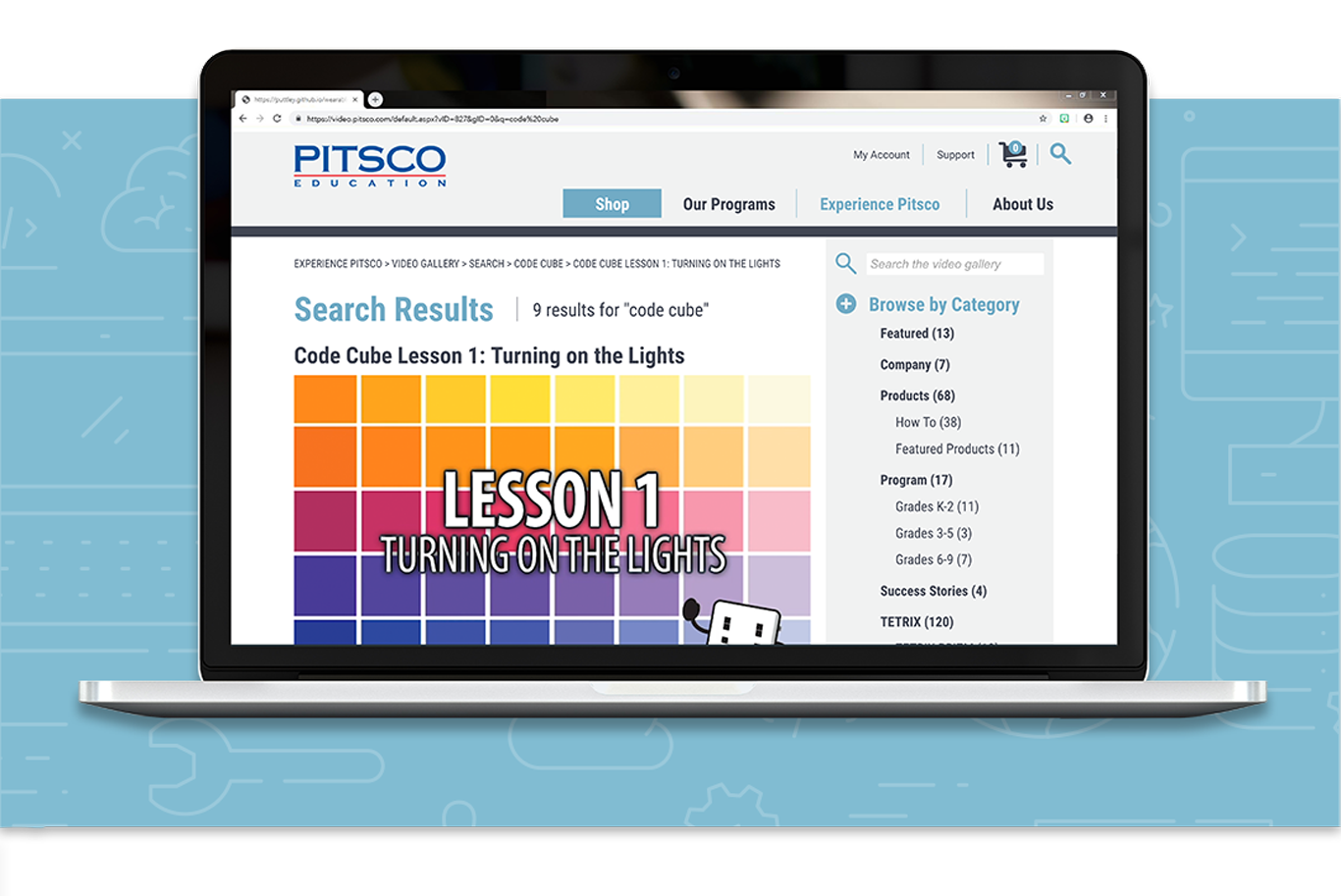 We've got a series of tutorials and challenges available on the Code Cube page and in the teacher's guide. The guide walks you through 10 lessons and 12 challenge activities. The ELA activity for our tenth lesson, A Little Extra!, has students practice creating an intro to their story. And, in particular, the bonus activities – the Challenge Activities – each have great ideas for having students create stories. The easy related favorites are:
Treasure Map – Have you ever dreamed of finding a buried treasure after finding a map? Here's a chance for you to make that dream come true for someone who shares it! Hide an object somewhere in your class or on your campus (ask your teacher where it is OK to go). Then, write a program that will lead someone from a starting point to your hidden treasure if he or she follows the steps correctly. You can add some fun riddles along the way to give clues to the location or hints about how big or small the steps should be. Feel free to add any sounds you think would improve the presentation. Use a worksheet to sketch ideas and write descriptions of your program if needed.
A Great Story – It seems like everyone loves a great story! All great stories have a character that wants something and takes action to make it happen. However, the character will run into some sort of obstacle or conflict that he or she will have to resolve. Write a great, very short story and then write a program that will show images or animations to help tell the story. Feel free to add any sounds you think would improve the presentation. Use a worksheet to sketch ideas and write descriptions of your program if needed.
Holiday Stories – Do you like to hear stories about different holiday seasons? Your Code Cube can be used to help tell a real or fictional story related to a holiday season. Create at least three different images that can be used to help tell an original or existing story related to a holiday. Use a worksheet to sketch ideas and write descriptions of your images or how they relate to your story if needed.
With Smart Buddies™, we are working to change the traditionally portrayed aspects of what makes a scientist, programmer, or engineer – among other STEM fields – in order to allow more children to relate to and visualize themselves in a STEM career.
Eight diverse characters bring Smart Buddies to life in the classroom (and now at home!). These buddies each have different perspectives, interests, and ambitions that students can connect and relate with.
With a focus on storytelling, students leverage the Smart Buddies app to meet their buddies in a series of e-books. Students are then exposed to the basics of block-based coding by controlling the movements of their characters on their Siggys in order to resolve a series of story-related challenges. The reading levels are adjustable for third or fifth grade.
After students are familiar with the coding and the characters, they can create their own challenges and write their own adventures to combine imaginative yet real-life storytelling with coding and math-related subjects in the Sandbox.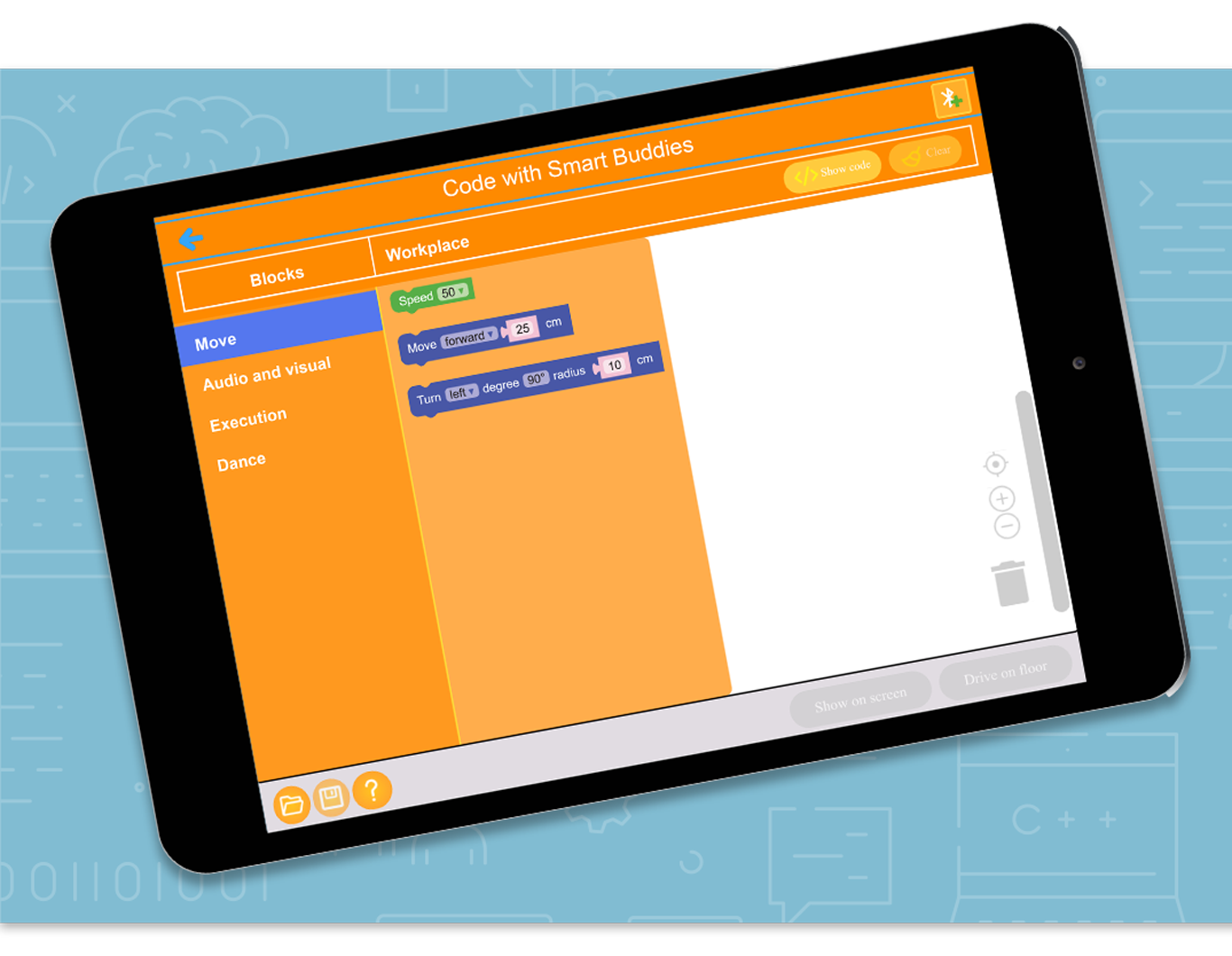 Students and their buddies can retell current events, retell a book they're currently reading, build understanding of concepts or vocabulary through a story they write, or even imagine futures for grown-up buddies (and themselves). Also, by building their hard coding skills through interactive work, they develop SEL skills too; there are opportunities for discussion, debate, and reflection on important topics such as diversity, gender differences, and conflict resolution.
KUBO, Code Cube, and Smart Buddies are only the first characters in a few chapters of the many your students can author in their coding and STEM education. And, as you look to write your story this summer, check out our Code @ Home resources for tips, tutorials, and products.