Coding is more than just numbers or words on a screen, it's what helps students learn how to problem-solve, think differently, and get creative. It's not just learning how to follow a set of instructions but rather learning that failure is an opportunity to succeed. Computer programming is the future. And, as many things in our everyday lives become dependent on digital technology, the demand for coding skills increases.
While we have all been trying to maneuver our new normal, we here at Pitsco have worked to support learning however we can. We know learning isn't just in the classroom, it can happen anywhere and everywhere! And, this summer we are doing just that with code!
Create 'GOOD' This Summer
We are calling all the do-gooders and creative enthusiasts for the ultimate summer competition! Pitsco Education is teaming up with Arduino Education to bring the Code for Good Challenge.

We want the next generation to create a change that they want to see! Whether this is in the area of health care, sustainability, access to technology, or clean water, we want to challenge students to code for good today to create a brighter future tomorrow.
What's the goal?

Teams will select a challenge they are interested in and create a potential solution that alleviates some aspect of the problem at hand. Let your imagination run wild and be creative!
Consider a solution that will positively impact society! Check out these examples:

What makes a team?

A team is made up of an adult coach, parent, or mentor and one or more students ages 13-18. Students can compete solo but will need an adult who is 18+ for the submission process.

What do I need?

Participants must use Arduino electronics in conjunction with any household items to create their solution. (Check out our recommended materials

.

) Yes, you can use ANYTHING around your house!

How can I enter?

Entry is simple! Teams or individuals will create a video that shows their solution working along with an explanation of how it works and the problem it solves.
The team mentor, parent, or coach must submit the entry for review here! Be sure to tag Pitsco Education and Arduino Education in your video entry on social media using #ArdunioCodeforGood.
But, are there prizes?

What's a competition without a prize? We have one-of-a-kind prize packages for the grand prize winner, first runner-up, second runner-up, and third runner-up! And, anyone who participates gets an "I Code For Good" sticker. It's a win-win!
Grab your tools and start inventing! Whether you like to code for fun, for interest, for learning, or for change – this summer, join us as we #CodeForGood! We can't wait to see what you make.
Let's Program Learning Together
Learning code is literally learning a new language! And teaching it, well, that's a challenge you shouldn't have to overcome whether you're a teacher or a parent. That's why recently we've been working with our partners to curate a special assortment of code-at-home products and resources just for YOU! Code @ Home is here to help support parents, teachers, and students to keep learning while school is out!

From code kits to resources to tutorials to webinars – we have you covered! Explore these coding products that are designed to take a weight off your shoulders while giving kids the tools needed to learn or grow their coding skills:
AND, to continue to support learners everywhere, we are giving away products each week! Follow the link below to get your entry in!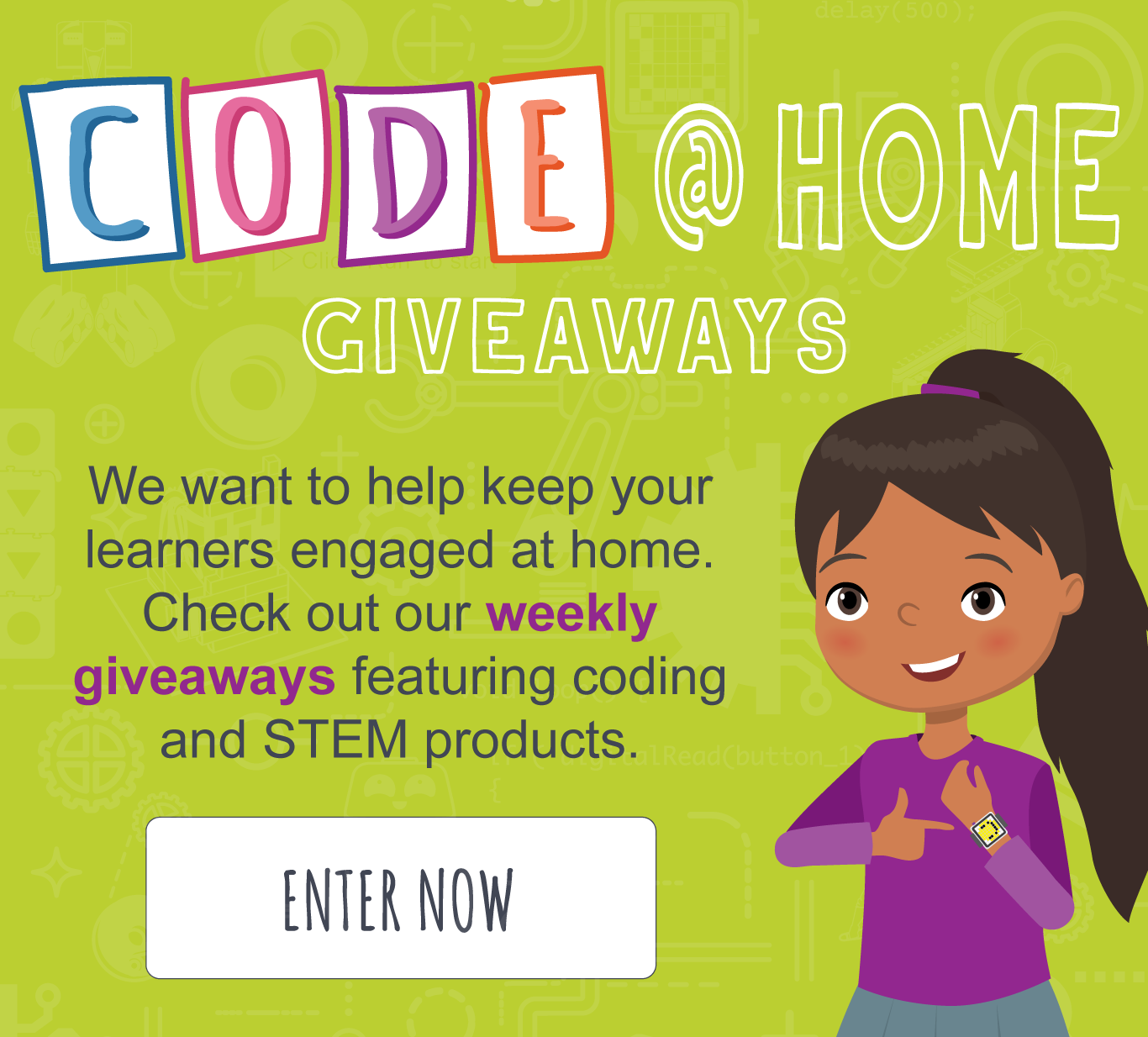 We love getting to work beside you to beat boredom and thrive in any learning environment! We can't wait to see what you code, make, or invent!
Ready! Set! Code!