Ear protection is usually a must for most tractor pulls, but not long ago Pitsco changed that with the release of a classroom sized version, the Sled Pull Challenge Kit.
If you've ever been to a tractor pull, you know there's an air of excitement and anticipation to see which equipment can pull the biggest load the furthest. Every pull is different as the class of vehicles and the track surface changes from repeated use. The weather can also change, and mechanical failures happen, adding to the unpredictability of the event.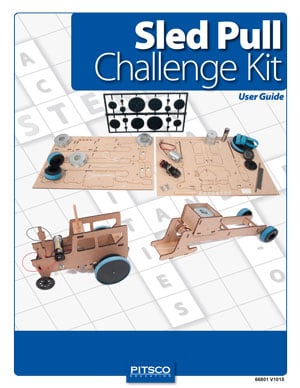 Your classroom can be a manageable environment to replicate this competition that can give you the opportunity to teach:
Torque.
Circuitry.
Gear ratios.
Friction.
Accuracy.
Graphing.
Independent and dependent variables.
Speed.
Curriculum Specialist Terry Carter likes this activity because "It enables students to explore many physical science principles and apply mathematic practice standards."
Terry wrote our Tractor Pull Math Expedition, which implements many of the ideas mentioned by our Teacher Advisory Group members in the Sled Pull Challenge video.
I love to tinker, so I had to try this out myself. The laser cut pieces in the kit were easy to work with. I admit, there were a couple times I had to take a short break, and then go back to the project before I finished, but it was basically done in one sitting.
Overall, it came together quickly and was fun even for an adult. There's a sense of pride when you connect the wires to the battery and it takes off! I started on carpet, which did OK, but the tractor showed its muscle better on the smooth surface in the kitchen. I started testing the load with washers, and then found other items to weigh down the sled to test distance. While I didn't document my findings, it was obvious students could walk through the engineering design loop and collect tons of data to analyze and improve their tractor. I only wish I had my husband build one for a little competition.
A few tips to consider:
Building a kit yourself will give you insight into what your students might need help with.
Don't use hot glue. The instructions note to use white glue, and now I understand why. While it didn't seem to matter for some pieces, the sled didn't pull as smoothly because of the hot glue's rubbery texture.
Some of the pieces fit together tightly, which is needed for certain connections. If you're having an issue getting them connected, twisting them while applying pressure helps.
As a twist on an activity, you can give your students a distance their tractors must travel and then stall. Or, you can work 3-D printing into the design. Terry also mentioned that students might be able to design some sort of gear box for the tractor that would enable them to shift gears as needed.
While I just skimmed the surface, I saw that the versatility of this kit enables teachers to use it in many ways, from direct activities to full-blown, all-out engineering competitions. Try out a kit and see how it can engage your students and gets them excited about STEM. Hopefully you won't need ear protection when your students voice their excitement!
If you've used the Sled Pull Challenge Kit or have activities ideas, please comment below.