With a new season of the FIRST® Tech Challenge on the horizon, students will need the best parts to build a robot that can handle the rigors of competition. To complement the unmatched durability of the TETRIX® MAX building system, our robot guys have created the TorqueNADO™, a powerful 12-volt DC motor with built-in encoder. This is a motor you won't want to miss.
Built with a competition setting in mind, TorqueNADO features capabilities such as 100 rpm and a stall torque of 700 oz-in., and it's the strongest DC motor available to FIRST Tech Challenge competitors.
"One of the most common pieces of feedback we received from teams was that they are always looking for more powerful motors. The development for TorqueNADO was driven by the need of competitors for a better DC motor," said Pitsco R&D Manager Paul Uttley. "TorqueNADO was designed to be powerful and efficient while producing less stress on the motor."
This means that at the 700 oz-in. of stall torque, TorqueNADO is drawing only 8.7 A of stall current. This is a clear jump in power from previous TETRIX motors. Simply put, the TorqueNADO can output a ton of power while using less energy, making it very efficient for your robot's battery pack. The motor's efficiency also means it will keep the temperature of the motor down during a stall condition.
"Typically, as motors approach a stall condition, they get hot. Many motors can get so hot they could physically burn you if you touched them. TorqueNADO will not," said Pitsco Robotics Application Specialist Tim Lankford. "We want it to provide more torque but at the same time always stay at a safe temperature for users."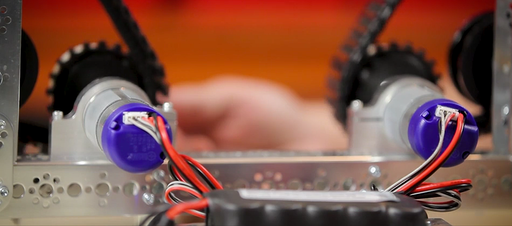 TorqueNADO features a high-strength gearbox; a heavy-duty Powerpole connection; and a built-in, high-resolution Hall effect encoder that comes with an encoder cable. The built-in encoder means that TorqueNADO can be used with the TETRIX PRIZM® Robotics Controller, or any other autonomous robotics controller, out of the box and ready for coding. No excessive add-ons or extra wires – just plug and play. It's an addition that streamlines the robot building and leaves more time for coding.
"The built-in encoder will allow students and teachers more opportunities to use TorqueNADO in a coding environment," said Uttley. "The included encoder makes getting started with robotics and coding more convenient and cost effective, as you won't have to purchase other attachments to go along with your power system." Our robotics gurus looked at all the most popular motors available to FIRST Tech Challenge competitors, and they sought to exceed the performance of those motors in every aspect possible.
"Not only did we succeed with that, but we did it by a significant margin," said Lankford. "We're ready for TorqueNADO to take the robotics competition world by storm."
Even with all the added features and power, the TorqueNADO costs only $29.95! It's available now through Pitsco.com and TETRIXrobotics.com. We're confident TorqueNADO will help you build your most powerful TETRIX robot yet.