Coding in elementary: Tackling 21st-century needs begins with TagTiles®
Educators just make things happen. All of you use your resources, aren't afraid of new things, and love nothing more than new ways to get students thinking and doing. And it's no secret we aim to put engaging products and solutions in the hands of eager educators who use them to empower students. This is the essence of our daily work.
So, when we had the opportunity to pilot KUBO, a plug-and-learn robot for elementary students, into nine classrooms across the US, we jumped at it!
Top Coding with KUBO Takeaways
The classrooms have had their KUBO sets for just shy of a year now, and we've had a chance to gather some feedback. The pilots showed us just how awesome this tiny robot – with its screen-free, TagTile® coding system; interactive map; and free lesson plans – really is. To begin with, teachers loved:
The easy implementation.
The simple, intuitive way KUBO teaches coding.
The inherent teamwork and troubleshooting that takes place.
The free lesson plans available at KUBO.education.
The ease at which KUBO can be incorporated into regular classroom curriculum.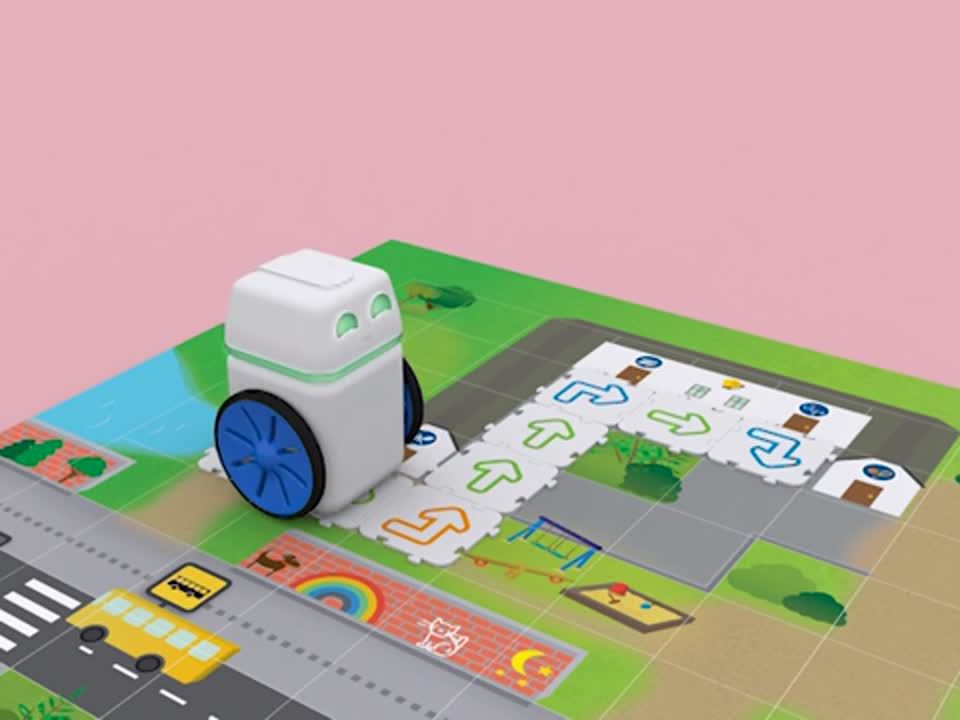 Tackling 21st-Century Problems Begins with TagTiles
Jennifer Bozeman, who teaches pre-K to fifth grade at Wildlight Elementary in Yulee, Florida, was impressed with what KUBO brought to her classrooms. "KUBO is fantastic!" she said. "Students are learning coding in a simpler form (vs blocks, java, etc.). My first and second graders grasp the concepts quickly and are able to be successful. . . . STEAM careers are their future, so the more I can incorporate robotics, coding, engineering, and so forth into their day-to-day lives, the more prepared they are to tackle 21st-century problems."
Bozeman first let her students explore KUBO and the intuitive TagTiles and then began incorporating the free KUBO lesson plans available at KUBO.education. "So far, we've completed the lessons on routes and are working our way through functions."
Robotics Spans the Age Gap
LeeAnn Tuttle-Thomas took a different approach to implementing KUBO.
Using high school students – who live in a world of screens, downloads, and apps – to help teach a screen-free, hands-on coding program to much younger students might not seem like a brilliant idea at first. But this stroke of genius proved beneficial to teachers and students alike.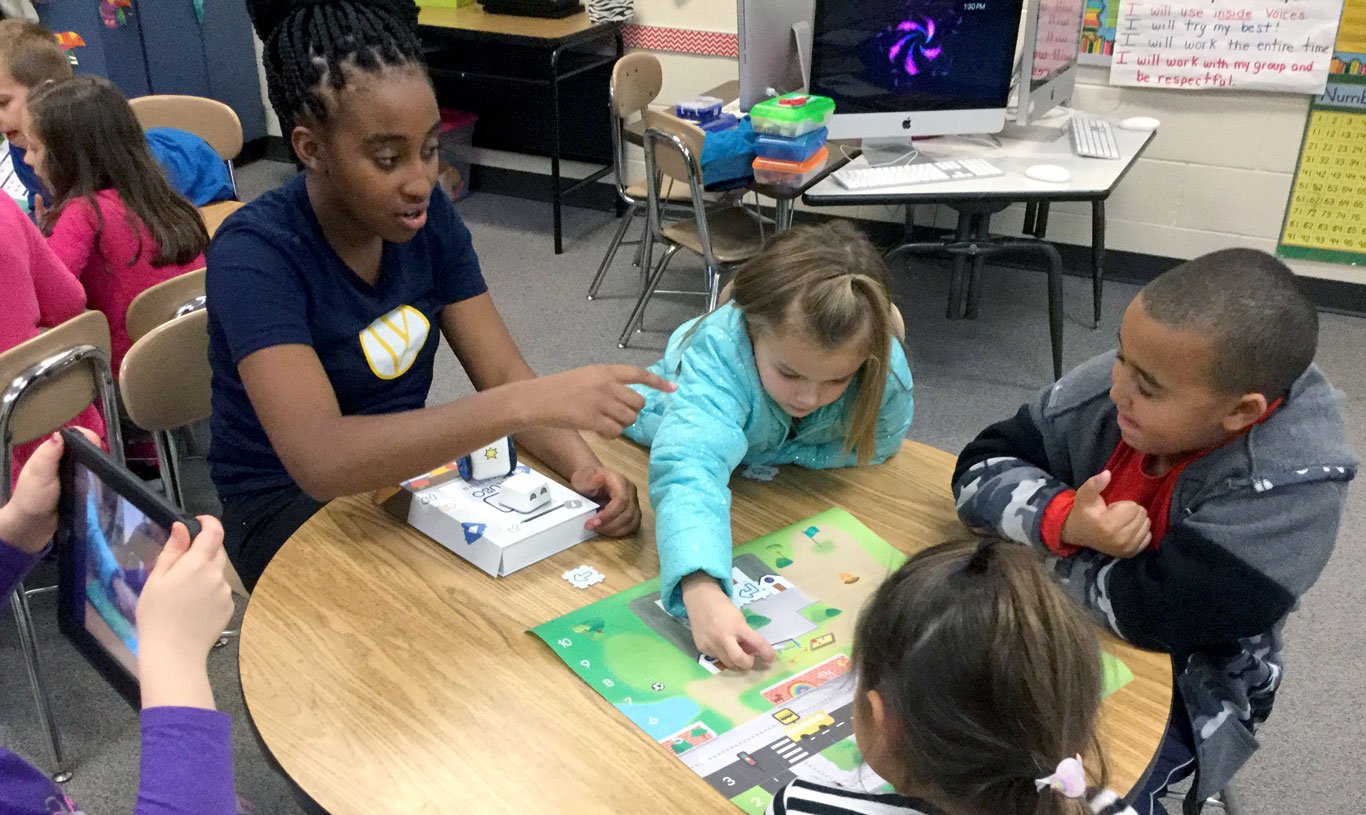 In November of 2018, Tuttle-Thomas, the CTE director for Davidson County Schools, partnering with Yadkin Valley Regional Career Academy (YVRCA) in Lexington, North Carolina, matched four high school mentors with four classes of first graders at Davis-Townsend Elementary School. The mentors, all members of YVRCA's robotics team, worked with the younger students to teach them about coding, circuits, teamwork involved in being on a robotics team, troubleshooting, and much more. The result was increased excitement about coding from both the elementary and the high school students.
"This opportunity has not only bridged the gap between elementary and high schoolers," said 11th-grader Sara, "it also introduces a world of endless possibilities while they are at their prime for imagination. This shows them that their dreams are possible if they work hard enough, which is a good value to learn at any age."
Kudos for KUBO . . . and Tips from Teachers
Among all the pilot sites, the consensus seems to be that KUBO works!
Fourth-grade teacher Tim Vesco has already used KUBO to do a presentation on coding for fellow educators at the Greenbush Technology Conference in eastern Kansas. "The participants loved it!" he said. "Everyone at the session got a hands-on opportunity to explore and play with the KUBO robots."
"KUBO is easy to implement in any classroom to introduce students to coding and robotics," said Pittsburg Community Schools K-5 teacher Natalie Vanderbeck. She suggests allowing students to simply explore when they first use KUBO. "Teachers will be amazed how easily and quickly students learn to work KUBO. Through exploration, students grow their excitement for using KUBO."
Vanderbeck said she will continue using KUBO in her math classes – and beyond. "I am planning to make grids on the floor that students will rotate through," she said. "Students will use the TagTiles to determine the area and perimeter of the different grids and shapes."
She also wants to expand KUBO's reach to the whole school. "I would like to start using KUBO with classrooms during our STEM Focus Friday activities," she explained. "All grade levels take part in STEM activities on Fridays. This will give me opportunities to share KUBO with all students in our building."
Getting Started with KUBO
Curious? Feeling inspired? Want KUBO in your classroom? We can help, and your students will be coding in no time. Explore more at Pitsco.com. After you've started, it's only the beginning. KUBO continues to put out free cross-curricular activities that help you expand your experience. Plus, incorporating KUBO's Coding+ TagTiles takes learning to a new level.
Can't wait to hear your KUBO classroom successes!